Promotional items distributor 4imprint has created a new infographic to demonstrate a perfect promotional mix and the value of including promotional items into an organisation's marketing mix.
What is the marketing mix?
The marketing mix is a business tool used by marketers to determine a product or brand's marketing strategy. By focusing on the four areas (also called the four Ps): price, product, promotion, and place, marketing specialists ensure a balance in marketing their products.
How to create the perfect marketing mix for your business.
4imprint compared the effectiveness of TV, print and promotional marketing campaigns – as well as analysed the results by combining all three promotional methods.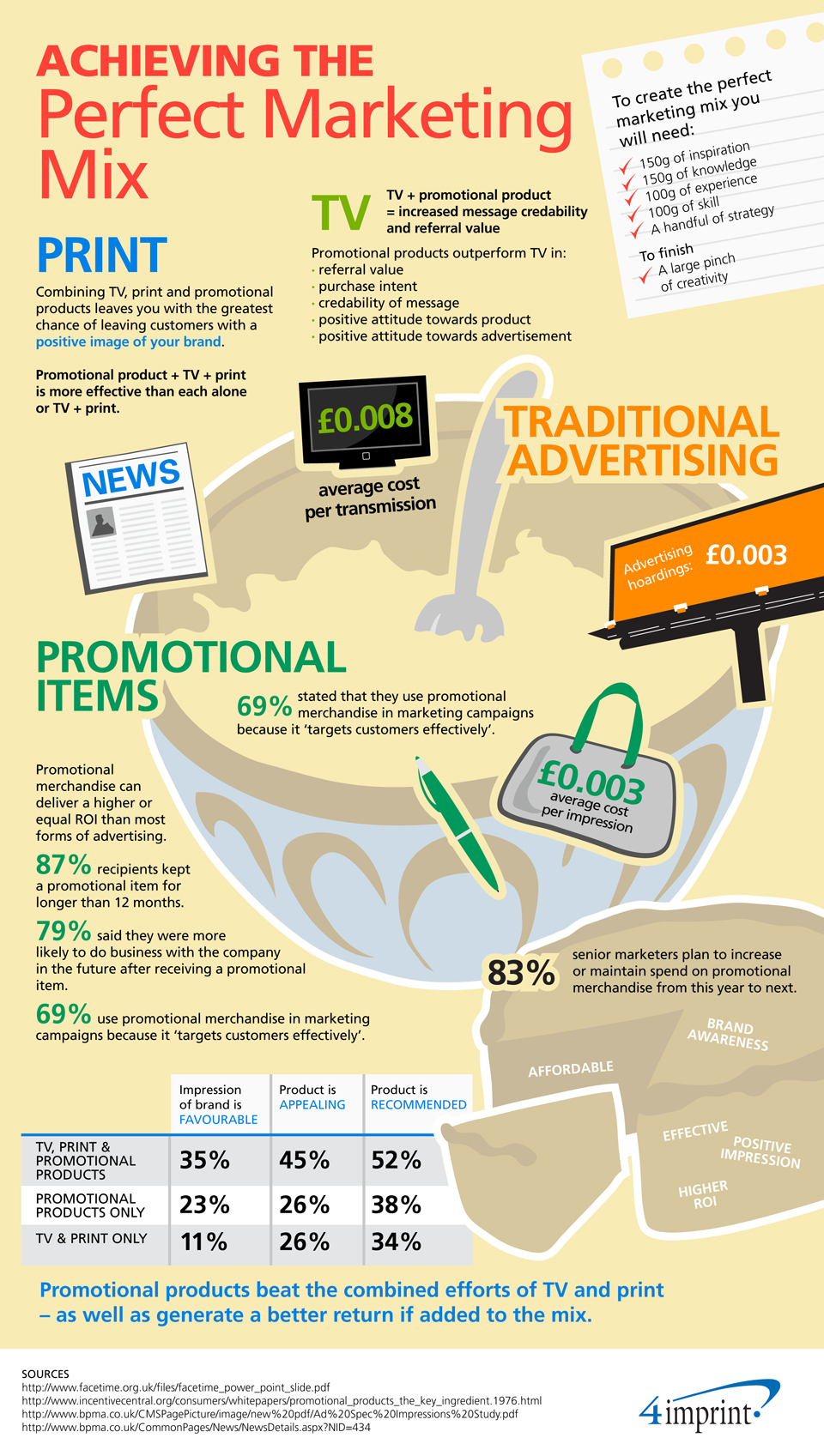 The role of promotional products in the marketing mix – An infographic from 4imprint.
The above infographic clearly shows that promotional merchandise has a positive impact on a brand's image. 79% of recipients who receive a promotional item such as a printed pen, mug or notebook, are more likely to do business with a company in future. Additionally, the majority of recipients keep a promotional product for more than a year which only proves the longevity of this approach.
4imprint Direct Limited is part of 4imprint Group plc which serves more than 100,000 businesses with its innovative promotional items and corporate gifts throughout the UK, Ireland, USA and Canada. Its promotional merchandise products include personalised pens, notebooks, printed mugs, keyrings, cotton bags, mouse mats, printed drawstring bags, sports bottles and travel mugs, promotional USBs, diaries and calendars, corporate clothing, printed T-shirts and much more. 4imprint's 'no quibble' guarantees include the promise that if the personalised goods are not dispatched on time they'll be free! For additional information, visit www.4imprint.co.uk.